I had the great pleasure of interviewing Candice Hartford, South Shore mom and Founder of Raising Harts. The Raising Harts community is an empowering community of families with neurodivergent children. Through events, shared resources, encouraging other families and more, they have created enriching experiences for the children of families that may have been unable to enjoy what so many of us take for granted every day. Read on to learn more about Candice, Raising Harts and the amazing community she has created.
---
Tell us about yourself! What town do you live in? How many children do you have? What do you do for work?
I'm Candice Hartford. My husband Kenny and I live in Cohasset with our 3 kids, our twin boys Keaton and Grady who just turned 7 and our daughter Isla who just turned 5. I was born and raised in Southern California and moved to Boston as a travel nurse in 2009. I've been a Neonatal ICU nurse for almost 20 years, the last 13 at MGH. I consider it a great honor to care for infants when they are fragile and have always been passionate about helping parents during such a critical time in their lives. I loved New England right off and after meeting Kenny at a NICU nurses Christmas party, I knew I'd be a forever resident!
Kenny and I got married in 2013, and moved to the south shore shortly before having our twin boys in 2015. Becoming a mom was something I looked forward to my whole life but I wanted to find the right partner, place, time, etc., in hindsight I realize you can't plan everything and life isn't perfectly laid out that way.
Both of my boys are on the autism spectrum and have totally different personalities. There is so much truth in the saying "if you've met one person with autism, you've met one person with autism." What I want others to see is that my boys are amazing unique little humans with a different way of thinking. Their little sister is what they call "neurotypical" and she entertains us all and brings much needed levity to our home.
Becoming a mother has been one of the biggest accomplishments of my life and becoming a special needs mom has been an unexpected and beautiful gift. Grady is non-verbal, has never said "mom" or "I love you" but he can take my breathe away with one look and one hug. We call him "chill baby Grady". Keaton does have words but doesn't use them naturally. He is so fun and extremely observant. His mind is fascinating, but he needs help transitioning from day to day activities and how to engage with his peers.

It turns out that being a NICU nurse was training wheels for motherhood.

Tell us about Raising Harts.
Raising harts started during the pandemic out of necessity. I felt extremely isolated trying to navigate life with multiple kids with special needs and craved community for my kids and my husband. I wanted my whole family to enjoy going out together without the stress of having to explain things. What I have found, is that there's so many families needing this as well.
Raising Harts is a community, a village to empower parents and families like mine by providing inclusive and judgment-free events for families on the south shore with special needs children and their siblings. We need our kids to be with neurotypical children in a safe venue and for neurotypical kids to learn from them as well.
As much as these events are for the children, they are equally important for the parents who are eager and excited to connect with and find support in other families.
We are moms.
We are dads.
We are siblings of children with autism.
We are "raising harts," together.

My hope is to bridge the gap for families between pre-diagnosis and therapy, and we are just getting started!

I have seen some amazing Raising Harts events pop up. What have been some of your favorites and what are you looking forward to?
Right now we are eagerly preparing for our first Raising Harts' Halloween event called Tricks & Treats sponsored by the South Shore Autism Center. It's this coming Saturday, October 22nd from 4 - 7pm at City Arena in Pembroke and is open to the public.
4 - 5pm will cater to our most sensory sensitive friends with reduced lighting and music. This will allow for a safe and judgement-free trick or treating experience for the whole family! Costumes optional!
While we have planned some amazing events so far, this one is going to bring our community together in a special way. This event will be sponsored with the help of our favorite south shore businesses that directly work with neurodiverse families! We are so excited for this event! Pre-registration is encouraged! Register here!

Another hugely needed and anticipated program we have recently launched is our "Village of Harts" parent mentorship program! For parents and caregivers who have children with a diagnosis of autism, the process is overwhelming. There is a grief process you go through when you become a special needs parent and it's so important that parents don't have to go through it alone. We plan to match caregivers to mentor parents based on their child's age and location. Having a parent mentor that has walked in your shoes & understands all that a parent is going through will provide critical support that has traditionally been difficult to provide in the past. We believe connecting parents will empower them, thus empowering their children as well.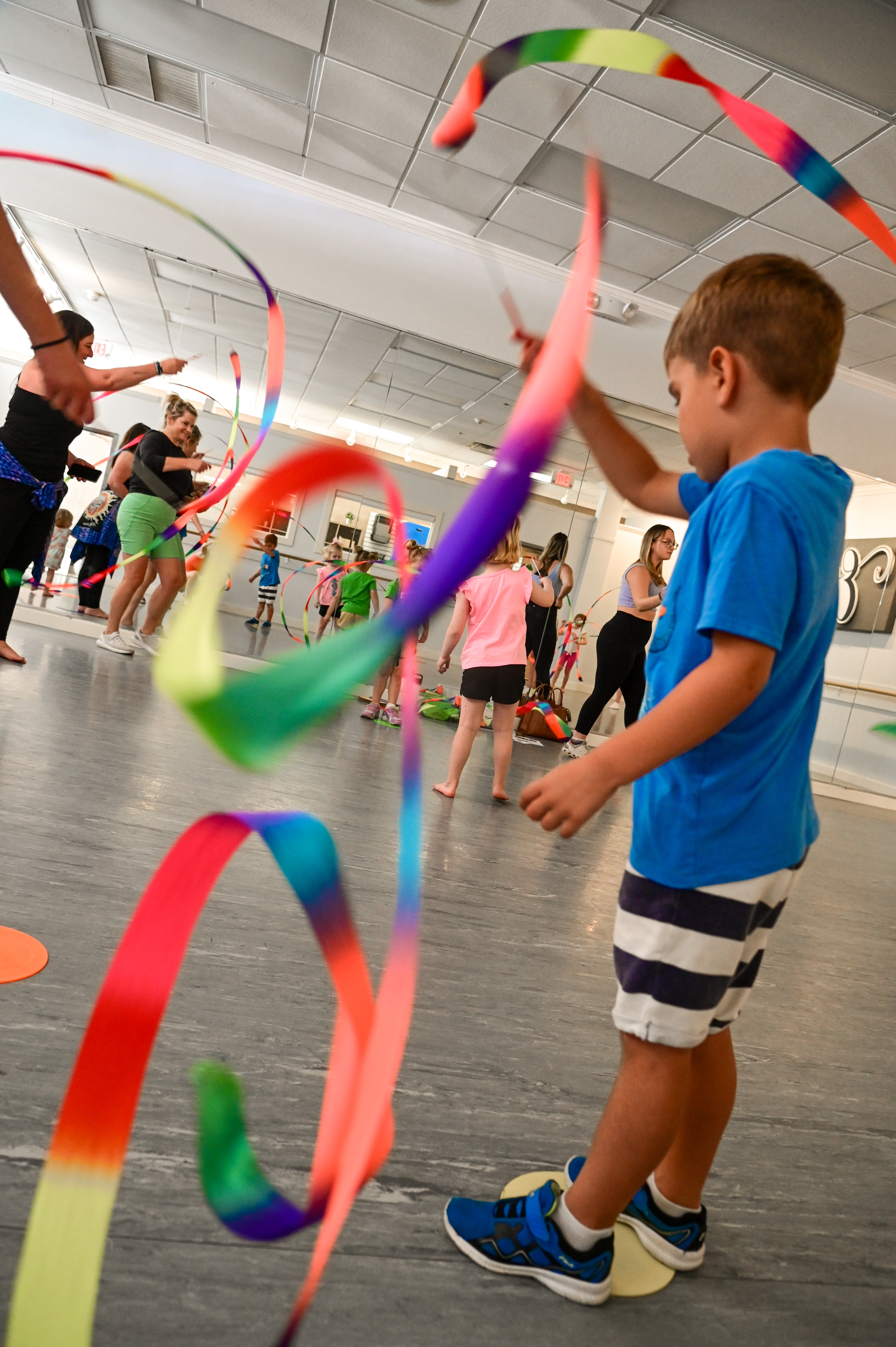 What has been the biggest challenge with Raising Harts? How can the community help?
I think the biggest challenge is that we are new and because there's never been anything out there like this before spreading the word and getting people on board with our mission is a challenge that any new organization faces. I think whether you have an autistic child or not, you should come to an event… seeing is believing.

What has been the biggest reward? I can't imagine how fulfilling it is to see some of these children enjoying activities that they might not typically be able to enjoy.
Hands down the rewards are being able to witness first hand, parents being able to let their guard down and enjoy letting their children be themselves. When I meet parents finally feeling like they belong & seeing their kids have fun, it's pretty powerful.

What are some of your favorite south shore businesses that support neurodiverse kids and their families?
Honestly, we are so humbled by the incredible support we have received by so many south shore businesses.
City Arena, managed by Pete Umbrianna has supported Raising Harts mission from day one and helped to create a program called Inclusive Kicks. This program is run by adaptive soccer coaches that have real life personal connections with the autistic community. It is for ages 5-18 and they have become our home base for large events and fundraisers.
The Cheer Factor in Hanover has opened its doors for us for sensory play every month! Children can get so much sensory input on top of making friends while parents can bond with one other! What's better than that?
Sargent Child & Family Services and Powers Aquatics are two major sponsors that have allowed us to grow quickly. Each of these businesses has a passion to support the neurodiverse community and does so much for our families.

Is there anything else you would like to share with your South Shore community?
Our mission is growing and changing with the needs of the community. One initiative that is in the beginning phases is a Raising Harts sitter or buddy program. As more and more kids are diagnosed with ASD, the demand for knowledgeable sitters is exploding. We want to encourage high school and college students who are considering a career working with Autistic children or adults (whether it be a behavioral therapist, OT, nurse or teacher) to reach out to us. We plan to provide an educational certification & volunteer hours to help parents who desperately need this kind of support.

For more information, head over to raisingharts.com.
Welcome to our village!
Thank you so much, Candice!