Growing your family is exciting and wonderful - but it can also be challenging and daunting. Caring friendships and science-backed information make the transitions of early parenthood smoother and more joyful for the whole family.
Over The Moon Parenting offers education, support and fun from pregnancy to preschool. Our prenatal and early child development educators offer trusted guidance on your whole family's journey to preschool. We also offer a warm and welcoming environment for you to connect with other caregivers to build your circle of friends.
Prenatal Classes
Preparing for parenthood can be scary. Learning about what is happening with you and your baby at each stage, and how you can best support your growing family, can go a long way in easing stress and worry.
Our online prenatal classes provide comprehensive information and tools to guide you through pregnancy, birth, breastfeeding, newborn essentials and postpartum care. We also offer CPR classes for all caregivers: moms, dads, grandparents, babysitters, nannies, friends, and more. Safety first!
New Mother's Groups
Being at home with a new baby is often lonely, and infant books often raise more questions than they answer. Sometimes, new moms have a hard time connecting with their babies, and an even harder time finding kindred spirits with babies the same age as their own. Building a village, though, is the best thing a mother can do for herself and her baby.
Our new mom's groups are warm, supportive communities that help you bond with your baby and build lasting friendships. Each class features a specific infant development and care topic, including sleep, feeding, and creating schedules. Moms in the group have easy access to answers to questions and support for challenges as they come. The group, led by an RN mom of three, also covers caring for moms, because they are important, too!
Storytime, music, infant massage, and developmental playtime make each class fun and heartwarming - while also giving moms new ways to connect with their baby all week long.
We offer both in-person and online new moms groups. We also offer breastfeeding support for new moms including classes, lactation consultations, and more. Don't miss our FREE, weekly, breastfeeding drop-in group on Tuesdays, 1-2 p.m., via Zoom. Preregistration required.
Child Enrichment Classes
Most parents don't have a background in early child development education, and they don't often have time to sort through parenting books. Taking a child enrichment class with your children engages parents in the developmental growth happening and encourages playtime, communication, and healthy habits to stimulate and support each milestone. Every class makes the whole week for the whole family better.
Moms, dads, and caregivers rave about our early child development program because it offers parents and children fun and loving ways to connect, learn, play, and grow.
Classes begin with circle time rich with music, props, and games that foster language development and encourage social interactions. We teach simple and useful sign language to foster easy, positive communication. With a balance of structured and free play, we'll engage in developmental activities focusing on specific areas of development, such as water play, finger paint, open-ended crafts, and climbing toys.
With consistent, comforting class routines, children learn what to expect and feel safe to play and explore in our clean and secure environment. Caregivers also relax in our classes, and often form warm, supportive friendships with classmates.
Our early child development educators also offer timely parenting advice as well as offering the developmental rationale for each activity. Parents also have the opportunity to discuss milestones and topics such as sleeping, routines, feeding, relationships, behavior and more.
Over The Moon offers enrichment classes for babies and toddlers. For caregivers troubleshooting specific challenges, we offer parenting workshops on potty training, sleep, sibling rivalry, positive discipline, and more.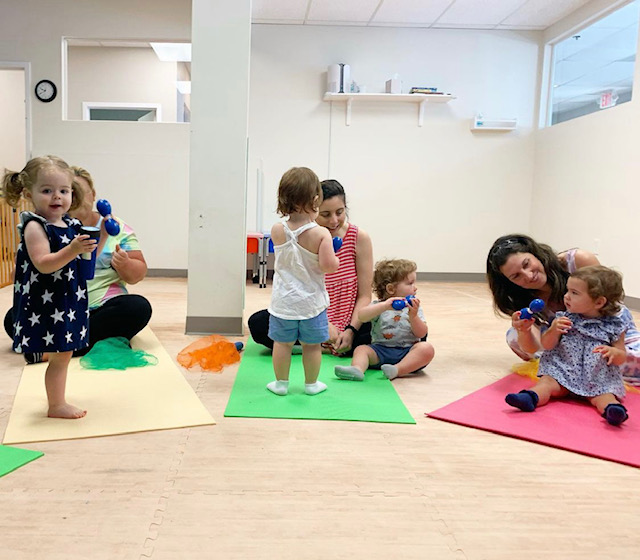 Sensory Art Classes
The minds of young children are always growing and sensory art is a particularly helpful way to let them explore! Sensory art for babies and toddlers is different from a standard art class in that the focus is on the experience of creating using all five senses, instead of the final product.
Engaging sensory play uses all five senses and promotes integration; the ability of their brains to process all the information they receive via touch, smell, hearing, vision and occasionally taste. As children pour, dump, build, and scoop, they explore and learn about spatial concepts like full/empty, over/under, in/out. They also learn pre-math concepts along with language and vocabulary for important cognitive development.
Art is an essential component to learning that encourages exploration and discovery through creative play, too. Art stimulates both sides of the brain and develops hand-eye coordination, stimulates perception, and encourages children to pay attention to the physical space around them. It is a natural activity giving children the freedom to manipulate different materials in an organic and unstructured way that allows for exploration and experimentation.
Last, children can share and reflect on their works of art with loved ones, which is wonderful for their self esteem and for connecting with family and friends.
Our Books and Brushes art classes encourage creativity, exploration and self-expression. Come create with your little one!
Music and Movement Classes
Music comes very naturally to babies and children. They wiggle and sway to music long before they walk or run. Listening to music actually activates every part of their brains and influences how brain signals flow. Music also improves speech, builds body awareness, boosts understanding of emotions and even releases 'feel good' hormones like oxytocin while suppressing 'toxic' hormones like cortisol.
Rock It, Baby, and Rock It, Toddler music classes at Over The Moon incorporate lap bounces, freeze dances, instrument play, scarf play, and more! Each of these components provide invaluable developmental benefits, and also helps parents bond with their children in playful and fun ways.
Toddler Playschool
Our very popular toddler playschool program is a great way for your little ones to experience a morning on their own to build confidence and independence. Each three-hour class begins with a warm and inviting circle time that builds social skills and teaches classroom behavior. From there, playschoolers engage with sensory art, music and dance, interactive storytimes, creative pretend play, and building manipulatives for pre-math skills.
Along the way, they will build relationships with friends and teachers, and also learn to rely on themselves in a positive way. All learning happens in a clean, safe, and encouraging environment with consistent routines so each child feels secure.
One-day and two-day options are available, and potty training is not required. We still have a few openings, and would love to see your child in class!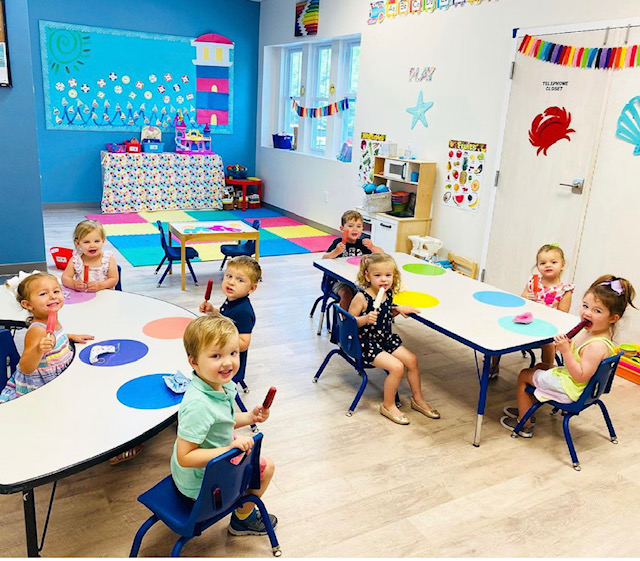 Preschool Enrichment
Our preschool enrichment drop-off series invites your little one to investigate the world of imagination and discovery! Children will explore and gather information through hands-on, sensory play, creative art, STEM activities such as math, building and constructing, and experimentation of different concepts like shadows, foam, buoyancy, and more. Then, the class will come together to share and reflect upon all they learned, with an emphasis on creating an encouraging, positive team effort.
Over The Moon's center in Norwell, located next to The Four's Restaurant at 15 Farrar Farm Road, is committed to supporting families as they grow. We would love to grow with yours! Come on in, or find us online at www.overthemoonparenting.com.