When COVID-19 hit, Kristen Hammers found herself in the same dilemma as most all parents - how to continue educating her three children ages 2, 4 and 6. Kristen decided to pursue homeschooling and created an at-home curriculum tailorable to each of their age groups, based on what they desired to learn about. Utilizing a combination of Montessori-inspired activities, hands-on learning, nature exploration, worksheets/workbooks and online learning, Kristen not only successfully executed homeschooling at all three levels, she also turned it into a business!
Through her Instagram handle @homeschooling_happy, Kristen shares her techniques, resources and tools and also sells subscriptions for monthly sensory kits. Using top notch ingredients and high quality materials, Kristen establishes a monthly theme and personally tailors each box to suit the theme.
My children (ages 3 and 4) received their first box, "Sweet Summertime" (ice cream inspired) last month and were over the moon. They played for hours, requiring little to no intervention, creating recipes, mixing toppings and running a business from their imaginary ice cream booth. As a mom, I love watching my children's minds at work and the quality and variety of creative materials in this kit allowed for just that!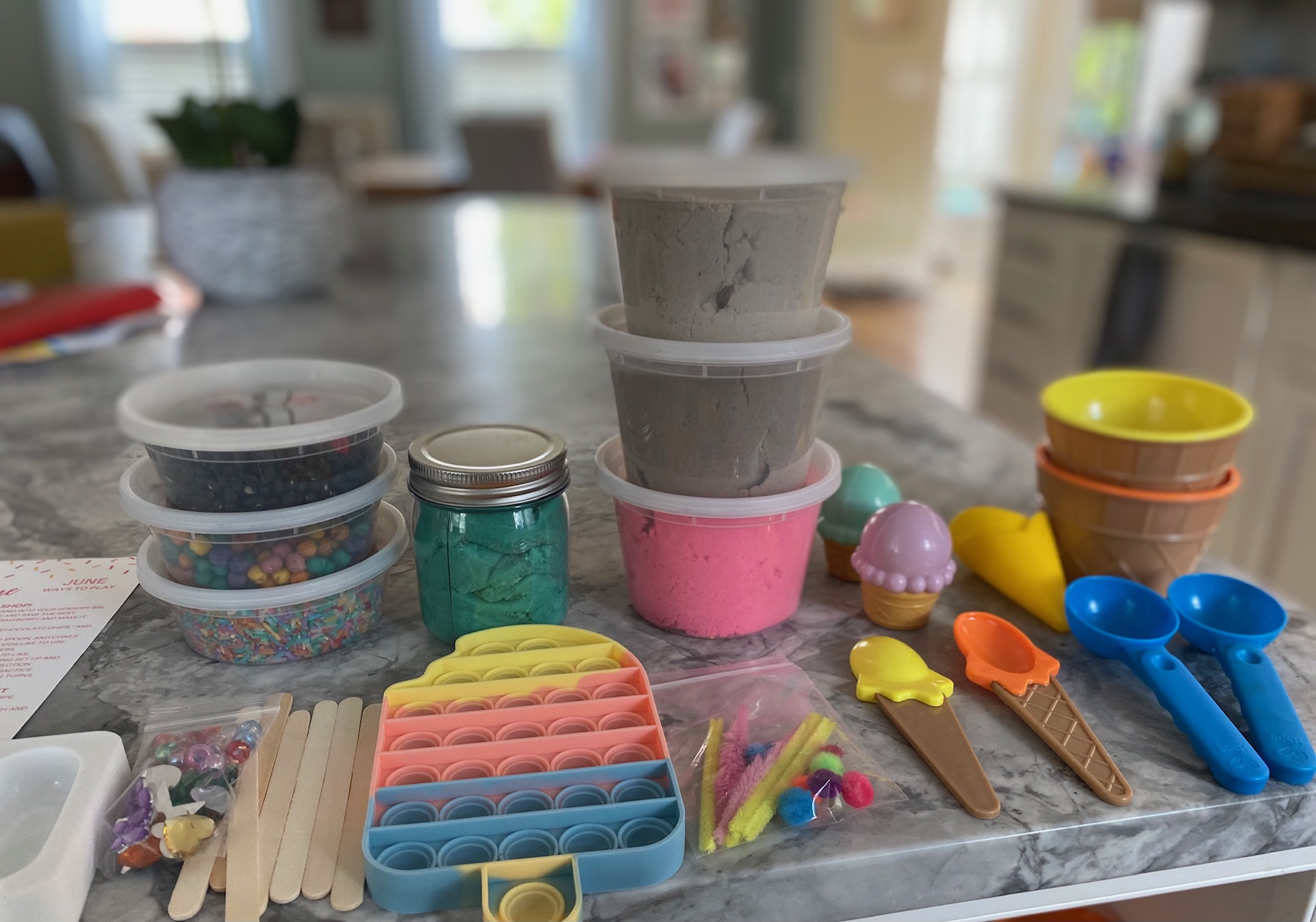 Perfectly packaged, high quality materials ready for sensory fun!
I had the opportunity to meet with Kristen and her passion for learning, innovative ideas and commitment to following her children's lead were inspiring. She has helped so many parents across the South Shore educate their children during the uncertain times of this past year and continues to encourage hands-on play with her clever and fun sensory kits. Read more below to learn about Kristen, her family, her sensory kits and how you can purchase!
1) Less screens, more learning and more FUN learning - what was your inspiration to pursue this amazing path of creativity, activity trays, sensory play and homeschooling with your children and share it with others?
I think like a lot of moms who have always wanted to homeschool but just needed a little push, COVID-19 was the opportunity to kick it into gear. After that first spring when schools closed down, I knew that I didn't want my little people sitting on computers all day. I also didn't want their toddler brother to lose the opportunity to do toddler things because we were stuck to the remote learning schedule. I'm very grateful that I am home with my kids during the day anyways, so it was an easy transition for our family. My main goals were to be outside as much as possible, do as much hands-on learning as possible, and to make it fun! The pandemic is/was such a big change for little ones, so the least I could do was keep things light and fun. I have overheard my daughter tell people that we "don't do school" which, honestly, is a huge compliment for me because it means I'm meeting my original homeschooling goals and they don't even realize how much they are learning.
I think the sensory play came into the picture during that first spring. I needed something to keep the toddler's attention while I helped the older two trade off zoom calls and assignments on laptops and computers that they had never even used before. We started with a cookie sheet, a little bag of kinetic sand, and some mini construction vehicles and the obsession just grew from there!
It's funny because I don't consider myself a creative person, yet I have realized over the last several years that I am happier when I have a creative outlet. I took a step back from my photography business last year to focus on homeschooling and around the same time I was getting a lot of interest and questions about our homeschooling journey. I decided to create a little Instagram page to share links and resources that I came across along the way. This later became a place to share all of our fun sensory table set-ups and then the subscription box idea grew from there!
2) You have three children - how do you involve them in your business?
I do! They are the best :) They are my big helpers and they test out all my set-ups to make sure they're fun for kids before I finish creating them! We brainstorm ideas together, they sit with me to pick out and order products and materials, they come supply shopping with me, and they help me create pictures/reels/tiktoks. Their absolute favorite part is when I set up a table the way I envision it for a subscription box and then I call them in to play, and they get to see it come together for the first time. Their reactions melt me every time!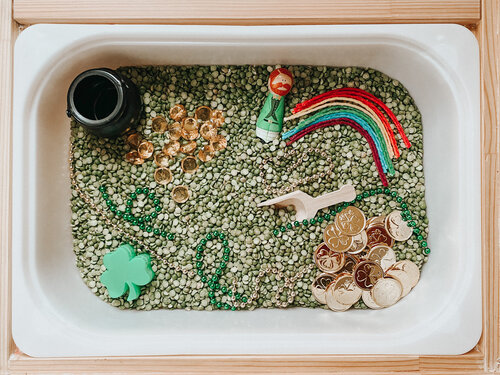 Photo Credit: @homeschooling_happy - March's St. Patrick's Day & Rainbow Bin
Something that has been helpful is their variety of ages. They are 2, 5, and 7. It's great because I can recommend ways to tweak sensory play, activities, and/or lessons to fit each age group. People are surprised to hear how much my 7 year old enjoys our sensory table. Some days, I actually find her over there the most! With homeschooling, we learn together as a group. I teach at the 7 year old's level and then tweak things for the little ones as needed. It is amazing how much the little ones pick up. With each sensory bin subscription box, I send out monthly curriculum ideas that coordinate with each month's theme, and I am always available to help adjust activities for different ages if needed.
3) People sometimes worry about a mess involved with sensory play. How do your products help minimize the mess and maximize the play? (Your instruction/idea guide and premeasured amounts of product were big standouts to me in this department!)
Ahh, yes. I hate mess so this was a big one for me. It just takes time for everyone, including the caregiver, to get used to. Sensory play should always be supervised and playing with them allows your child how to use that materials correctly alongside you. If they are scooping in the edge of the bin and it is making a mess, show them how if you scoop yours inside the bin, it will stay in the bin! My kids are in the habit now of washing their hands after if it's really messy; and even washing their hands before, if they're dirty from a meal or outside play. This all took time and a lot of practice and repetition. One of the perks of being home for a year, I guess!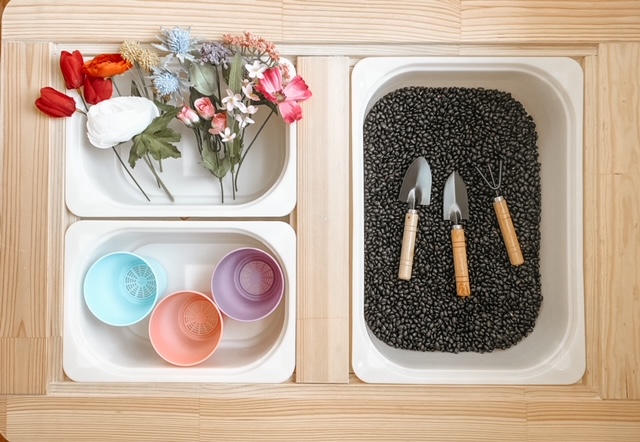 Photo Credit: @homeschooling_happy - Bins help keep materials organized for easy use and clean-up!
The sensory table is in the kitchen which helps with clean up. Most of what we use can be picked up easily with a vacuum. Hint - kids love using the vacuum! Another thing we did was add a mat underneath. We have the mini size from Gathre, but any little mat will do. When things are really messy, we just move the table and dump the mat over the trash or outside.
I'm so glad to hear the guide was helpful! Sometimes when you get a box, it can be hard to visualize how to set it up and how to turn it into open play and/or instructed play activities for your kids. My hope was that the insert, along with the monthly e-mail, will help caregivers get the most use out of it.
4) Any recommendations to Moms who dream about being entrepreneurs, but don't know where to begin?
I think the most important thing is to have a good sense of your business model and expenses, and what kind of work/life balance you want. If you are burnt out and not spending any time with your family, and also not making a profit, it is not worth it. Take the time to understand your full costs, and create a business model that prices you for profit. A lot of times we dive into something without fully realizing the costs and then we are in the red and also not spending time with our children. There are so many local moms who own businesses here on the South Shore and everyone I've come across has been kind and helpful. Reach out, ask questions, find a mentor. Go for it!
5) Where are your favorite places to visit with your family on the South Shore?
We are big fans of anywhere that we can get good food, good drinks, and hang and connect as a family. I am glad to see that the South Shore is getting on the train of creating family friendly places that are also enjoyable for adults. I love the whole culture of being able to relax and enjoy a meal together, and feeling welcome showing up with kiddos. We bring games, Legos, play dough, etc. and just hang out together. Some favorites are The Rexicana, The Island Creek Oyster Truck, Stellwagen, Roht Marine, and Food Truck events.
6) How can readers connect with you?
https://www.kristenanastacia.com/sensory-bin-kits
www.instagram.com/homeschooling_happy
https://www.facebook.com/homeschoolinghappy