HALE Bone Broth, was born out of necessity. I discovered the value of bone broth and couldn't find anywhere, and I mean anywhere. So I decided to make my own and my friends and family all loved it.

I found bone broth about 3 years ago, but I feel like bone broth found me. I had just said goodbye to my mother, who lost her 2 year battle with cancer, at the young age of 60. I was thrown into a world of grieving. I found myself reflecting on her life, what was important in life and just how short our time on this planet is. Through watching her battle with an awful disease, I realized how truly important health is when it comes to living a quality life.

I have always had a passion for health and fitness, but I was missing how it contributed to my overall well-being.

I was looking for a way to help me recover and refuel from the day to day wear and tear physically, but really what I needed was a way to enhance my life with the right nutrients and minerals to support a healthy lifestyle.

I realized I was missing the element of healing and replenishing my body. The answer was bone broth for me.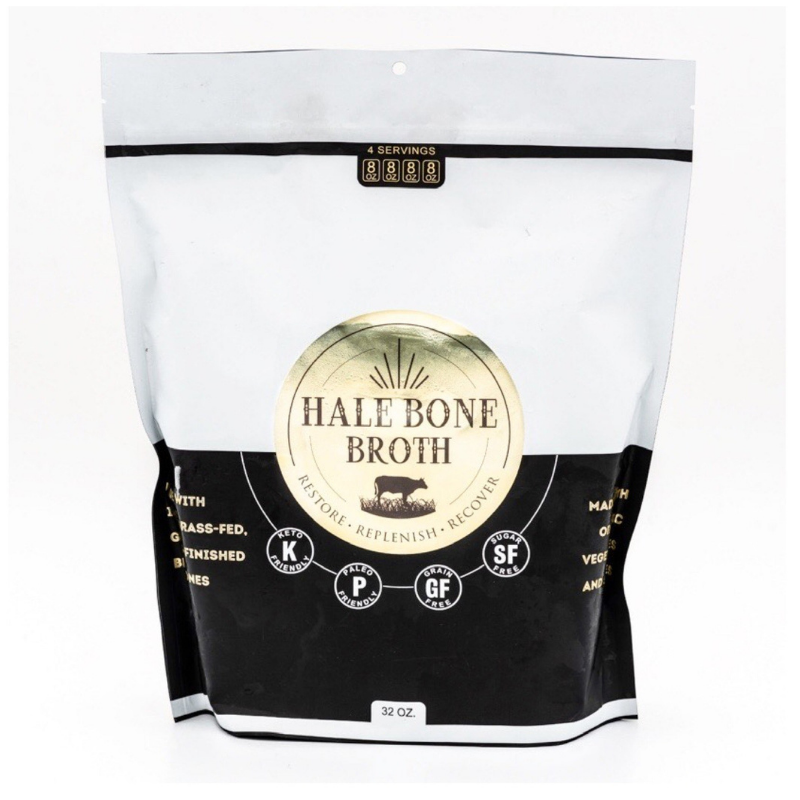 Ingredients:
2 butternut squash peeled and cut into 1-inch cubes
1/2 cup onion chopped
2 apples cubed and core removed
1 teaspoon poultry seasoning 1/4 cups carrots chopped
4 cups Hale Bone Broth (heated)
3 large sage leaves
2 teaspoons pumpkin pie spice
1 teaspoon Duxbury sea salt plus more for taste
1/2 teaspoon fresh ground black pepper
1 cup of coconut milk
2 tablespoon maple syrup
Instructions:
Preheat the oven to 400 degrees F.
On a sheet pan add the butternut squash cubes rinsed in a bit of water.
Coat with maple syrup and pumpkin pie spice.
Roast for 25-30 minutes until slightly crispy and browned.
Meanwhile, chop the other vegetables.
Once the butternut squash is done, in a large pot add all the ingredients, except for the coconut milk, and bring to a boil.
As soon as it starts to boil turn the heat down to a simmer and cook covered for 45 minutes to 1 hour.
Let it cool slightly then puree it in a blender and add it back to the pot.
Stir in the coconut milk and heat on low making sure not to let it boil.
Serve with a drizzle of olive oil, maple syrup, or coconut milk and garnish with sage and gluten-free croutons (optional).
The Hale Bone Broth is a small batch broth crafted with 100% grass-fed, grass-finished bones. It is 100% grain-free and made with organic vegetables and spices. The bones are sourced from the highest quality farms where the farmers master and practice the art of pasture-raised animals. By committing to using the highest quality ingredients, we create a bone broth that includes a unique blend of minerals and nutrients that your body needs. The rich, delicious, and buttery flavor is exactly what your taste buds crave, ready to try some for yourself? Plus, if you live in the Boston area they'll deliver it to your door!
Find more recipes or to order your quart of Hale Bone Broth at Http://thehalelife.com and follow them on Facebook and Instagram @thehale4life