We are living in a crazy time right now. With all the chaos and uncertainty, I am trying to stay looking at the bright side. I now have two unexpected weeks of doing nothing but playing with my family.
If you are like me, you are searching for easy ways to engage your little ones and keep them from becoming screen zombies. Today I'll share a super easy craft- crayon resist art. This project is good for ages two and up!
Materials:
White paper
White crayon
Shamrock template (optional)
Watercolor paint
Small cup of water (for the paint)
Various paint brushes
Because it's so close to St. Patrick's Day, I free handed a shamrock on a piece of cardboard (I pulled a piece out of our recycling bin) and cut it out. You could easily print out a shamrock image from the internet instead. Then I traced the shamrock onto the white paper with my white crayon for my younger children. My advice, press down hard! For my older child (almost 8 years), I let her use the template and trace it herself. She also made some designs in the background.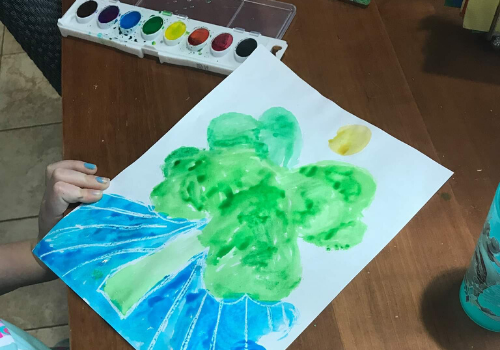 Next step is to just paint! Use your watercolor paint, brushes, and water to paint on your white paper. There's no wrong way to do this as the crayon resists absorbing the paint color. The shape of the shamrock will appear. My older child was very carefully painting her design, my 2 year old mostly changed colors constantly- but it didn't matter. They came out great!
A fantastic extension to this activity for older children would be making secret messages. Use the crayon to write a secret message for your child (use some of his/her sight words or new vocabulary words). Have the child decode them by painting over the words with the watercolors. You could also do math. Write the actual problem in black crayon and the answer in white crayon. Have your child guess the answer before revealing it with the watercolor paint.
Enjoy :)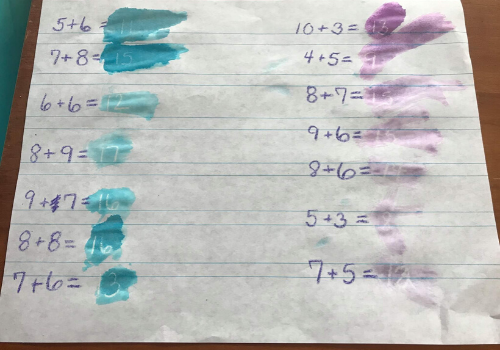 Ms. Bethany is a Child Development Instructor and Teacher on Boston's South Shore. As a child she would sit all of her stuffed animals around a small chalkboard to teach letter and numbers. After graduating from Framingham State College she worked in the Plymouth and Scituate Public Schools. After becoming a mom she began working part time at Isis Parenting in Hanover, teaching child development, art and music classes. When Isis Parenting closed in 2014 she decided to continue to share her knowledge and creativity with families across the South Shore through music, discussion, developmental activities, and fun at libraries and birthday parties. She also holds a Masters degree in Education from Framingham State University http://www.msbethany.com/