The pandemic and undoubtedly driven many families outdoors in search of fun things to do together. A good option any time of year is birdwatching! It's a favorite activity of mine and my 6 year old son and this time of year we love to watch them from the warmth of the living room at the window feeder, but there are also some wonderful places on the South Shore properties to birdwatch as well. We have included of our favorites but there are tons of local options for bird watching. Some of our favorite resources for finding new places outdoors to explore are Mass Audubon, The Trustees, South Shore Trails, and South Shore Hiking Trails if you are looking for more ideas.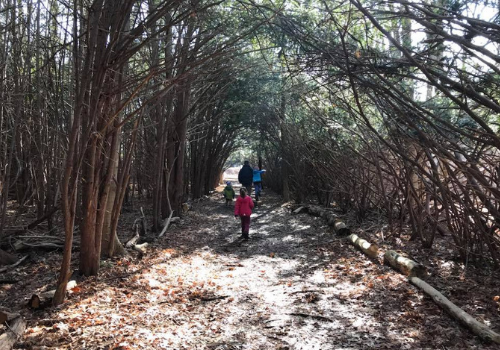 George Anderson Rockland Town Forest - North Avenue or Spruce Street, Rockland, MA 02370
Parking used to be hard to come by in the Rockland Town Forest, but with the addition of a second entrance on Spruce Street, it is much easier to access this great space. In addition to a bird sanctuary on the North Avenue side of the forest, there is also a rock art design area, and some fun bridges to explore.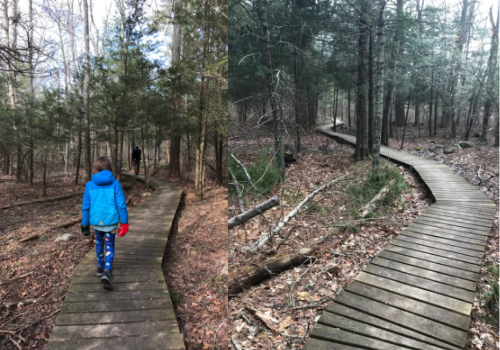 Willow Brook Farm Preserve - 9 Barker Street, Pembroke, MA 02359
One of several Wildlands Trust properties on the South Shore, Willow Brook Farm Preserve is a great place for families to walk. In most places the paths are wide and even plus there is a great lookout tower to climb and look for birds! Make sure you take a look at the map before you start, or pull it up on your phone because the trail to the tower can get a little confusing your first time. This property can get very busy on nice days.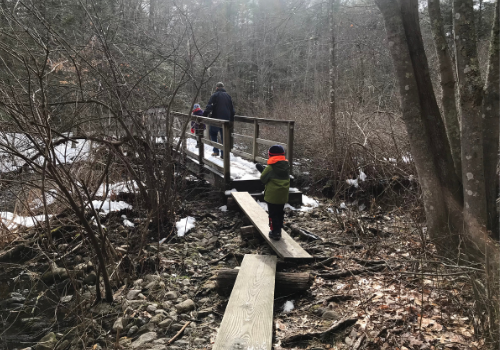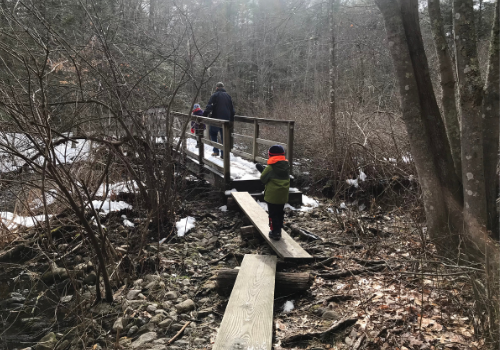 Colby-Phillips/Hanover Greenway Trail - 45 Whiting Street, Hanover, MA 02339
Located right across from the Hanover Middle School entrance this trail winds through the Cushing Brook Marsh and over the Cushing Brook via a bridge. Complete with a viewing platform it is a great place to watch for birds.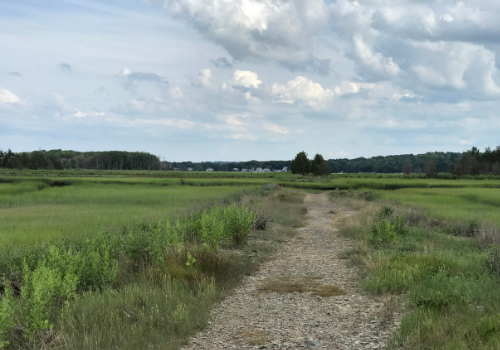 Driftway Old Colony Rail Bed Trail - 32 Driftway, Scituate, MA 02066
This trail is much shorter than some of the others on the list and if you aren't careful you might miss the small parking lot next to Dunkin Donuts on the Driftway in Scituate, but it's worth the stop. While we also love AJ Mceachern Memorial Trail trail down the street this short trail is a bit of hidden gem. Once you pass through some trees and along the lots of neighboring businesses the trail opens up into the marsh making it a great place for watching for shorebirds.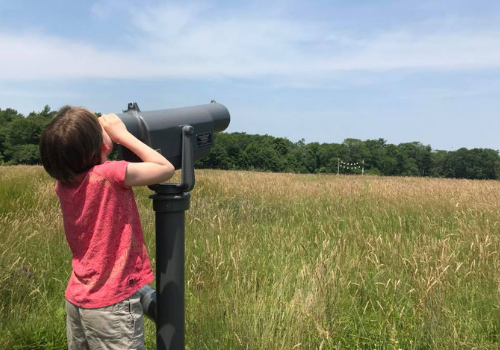 River and Red Maple Loops at North River Wildlife Sanctuary - 2000 Main Street, Marshfield, MA 02050
We love Mass Audubon South Shore Sanctuaries properties but the trail to the North River and salt marsh from the main part of the North River Sanctuary is currently our favorite. We love the gentle slope down to the river and sitting on the riverside platform for a few minutes to watch the activity on the river in any season! If you are new to bird watching you can't beat a Mass Audubon sanctuary. Plus, there is a great natural play area there too!
Macaroni Kid South Shore Boston is a free weekly newsletter and website focused on fun family events and information in 13 towns on Boston's South Shore. We gather together all kinds of local family events and activities each week and add useful information about classes, family-focused businesses, book and product reviews, recipes, crafts, school and camp guides and more. We proudly serve families in Hanover, Norwell, Hingham, Cohasset, Scituate, Hull, Marshfield, Duxbury, Pembroke, Whitman, Hanson, Rockland, and Abington!

Want to be the first to know about great local events for families? Subscribe today - ssboston.macaronikid.com/subscribe/