Are you heading out with the family to check out some great holiday lights? We have asked our readers for their favorites and here they are!
Please note these were submitted by our readers. Please email lauriec@macaronikid.com with the subject line "Lights" if something needs to be changed or updated. We will continue to update the list as more lights get set up and plugged in. This year we have teamed up with our sister site Macaroni Kid Weymouth for an even bigger area!
🎄🎄🎄🎄🎄🎄🎄

Have a favorite holiday lights display in Abington, Avon, Braintree, Canton, Cohasset, Duxbury, Hanover, Hanson, Hingham, Holbrook, Hull, Marshfield, Norwell, Pembroke, Randolph, Rockland, Scituate, Stoughton, Weymouth, or Whitman that we missed? Submit it HERE!
Looking for a new way to enjoy the lights? Check out our Holiday Lights I Spy Printable HERE!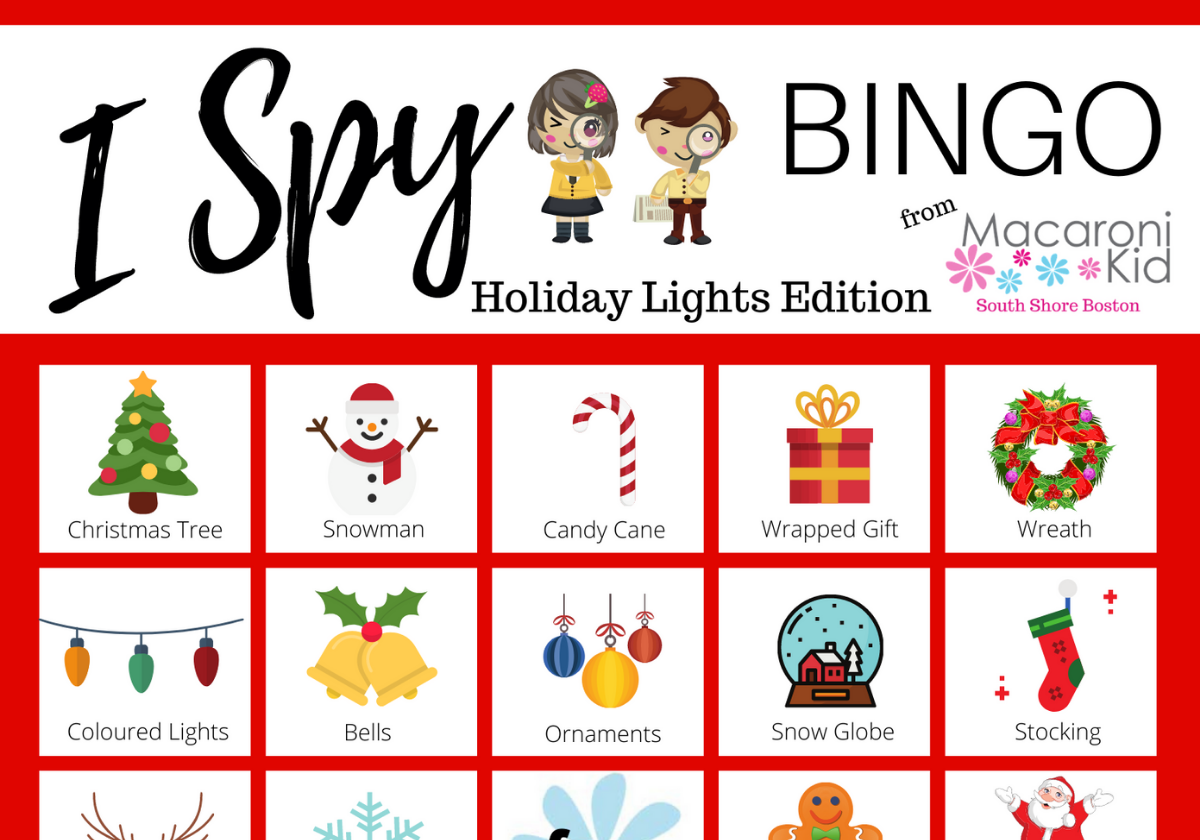 Holiday Lights in Abington, MA
🎄 Belcher Street - Lights display with music.
🎄 Christianson Circle
🎄 Lake Street - Lights display to music and hand-painted decorations.
Holiday Lights in Braintree, MA
🎄 Doris Road
🎄 Logan Drive
🎄 Middle Street
🎄 Morrison Street
🎄 Union Street - across from the police station
Holiday Lights in Canton, MA
🎄 Winterlights at the Eleanor Cabot Bradley Estate - Join the Eleanor Cabot Bradley Estate to see Winterlights an immersive, light installation.
Holiday Lights in Cohasset, MA
🎄 321 Jerusalem Road
Holiday Lights in Hanover, MA
🎄 Dwelly Avenue
🎄 Main Street and Stone Meadow Lane
🎄 Vine Street
Holiday Lights in Halifax, MA
🎄 6 Delia Way
🎄 25 Furnace Street
Holiday Lights in Hanson, MA
🎄 Woodbrook Lane
Holiday Lights in Hingham, MA
🎄 Issac Sprauge and Surrounding Streets
Holiday Lights in Holbrook, MA
🎄 Oak Street
Holiday Lights in Hull, MA

🎄 Paragon Carousel, 205 Nantasket Avenue - Lobster pot Christmas tree.
Holiday Lights in Marshfield, MA
🎄 Dandelion Park, 1896 Ocean Street - The Molly Fund will be hosting a virtual tree lighting on Dec 5th and the lights will be on nightly thereafter.
🎄 The neighborhood across from the Police Department, 1639 Ocean Street
🎄 148 Webster Avenue
🎄 Marshfield Holiday Lights Show - A drive-through holiday light display. $23 per car and tickets must be purchased in advance.
Holiday Lights in Norwell, MA
🎄 Cross Street
🎄 George Road
🎄 Forest Street
🎄 39 Jacobs Trail
🎄 Judges Hill Drive
🎄 30 Knollwood Road
🎄 Laurelwood Drive
🎄 Lincoln Street
🎄 32 Old Pottery Lane
🎄 233 Pine Street
🎄 Council on Aging, 293 Pine Street
🎄 121 Riverside Drive
🎄 169 Riverside Drive
🎄 239 River Street
🎄 285 River Street
🎄 Simon Hill Road
🎄 93 South Street
🎄 181 Stetson Road
🎄 2 Summit Drive
🎄 11 Tyler Street
Holiday Lights in Pembroke, MA

🎄 Ingham Way
🎄 LaRocca Lights - 212 Queens Brook Road - lights synchronized to music (97.1 FM)
🎄 Lilah Lane Christmas Lights Show - Streetwide light and inflatables show set to music.
🎄 Pratt Farm Lane
🎄 Village Way
🎄 Warren Terrace - Christmas Nativity Scene. Weekends only.
Holiday LIghts in Raynham, MA
🎄 38 Pine Street
Holiday Lights in Rockland, MA
🎄 Dubeck Road
🎄 French Road
🎄 Levin Road
🎄 Turner Road
🎄 Winter Circle
Holiday Lights in Scituate, MA
The Frozen Tower, 330 First Parish Road - beginning December 19th
🎄 Itchy's Corner
Holiday Lights in Weymouth, MA
🎄 Biscayne Ave and Lilly Street
🎄 Corner of Webb and Glendale
🎄 Essex and Essex Heights

🎄 Front Street
🎄 Liberty Bell and Flink Locke Neighborhood
🎄 Tick Tock Lane
Holiday Lights in Whitman, MA
🎄 356 Beulah Street
🎄 Constitution Circle
🎄 2 Fox Way
🎄 47 Maple Avenue
🎄 Old Colony Way
🎄 Orchard Estates/Orchard Way
🎄 Windsor Drive
🎄 Holiday Tree Lighting at Town Park - select dates in December
Drive Worthy Holiday Lights
Drive-Worthy lights displays are out of the Macaroni Kid South Shore Boston and Macaroni Kid Weymouth coverage area but may be of interest to our readers. They are marked on the map with a car icon.
🚘 La Salette Shrine, 947 Park Street Attleboro, MA
🚘 Plymouth North Holiday Drive of Fame - December 12th
🚘 Discover Middleboro Festival of Lights - December 12th, 13th, 19th, and 20th


Want to be the first to know about great local events for families? Subscribe today - ssboston.macaronikid.com/subscribe/