I LOVE getting a great deal! You might even say I'm addicted to the art of uncovering the sale.
There are a few tips and tricks that I rely on to help with the likelihood that I get the best possible price. Sometimes we need to just buckle up and pay full price, but more often than not there are ways to save. There are also some items, in my opinion, we should NEVER buy without a deal. For example, kids' clothes! In this article, I'll share how I bought $109 worth of clothes for only $11.16 or just 72 cents an item!
Recently, I realized in my haste to stock up and my habit of buying ahead, I made a big miss -- shorts! My child had only 2 pairs! Yikes! There are a lot of great kids brands, but I got hooked on GAP for kids early on due to frequent sales and reliable quality. Time to go shopping...
HOW TO SAVE BIG ON KIDS CLOTHES
1. Always try to buy out of season. Look for closeouts at the end of the season or mid-season blowouts.
2. Loyalty matters. Because I'm loyal to GAP and have their company card, I earn lots of rewards and cashback that I can then apply (most times) to the additional promotions and savings I get online. So how do I uncover these deals?
3. Get the Capital One Shopping Extension for FREE! Seriously, I've been using this small, but mighty shopping helper for the last year. It's allowed me to quickly find awesome savings pretty much anywhere, anytime online whether I'm using my laptop, phone or tablet. I happen to be a Capital One cardholder, but that's absolutely NOT a requirement. This is free for everyone, whether or not you're a Capital One customer.
Let me go into a bit more detail on the benefits of using this simple shopping extension (hang in there for the big reveal later on the shorts I got for 72 cents):
Save time. Forget endless searching for coupon codes (that don't work). The free Capital One Shopping browser add-on instantly searches for available coupons and automatically applies them to our cart across thousands of sites. It literally takes seconds and it does it for us. In my search for shorts, it found 10 CODES INSTANTLY!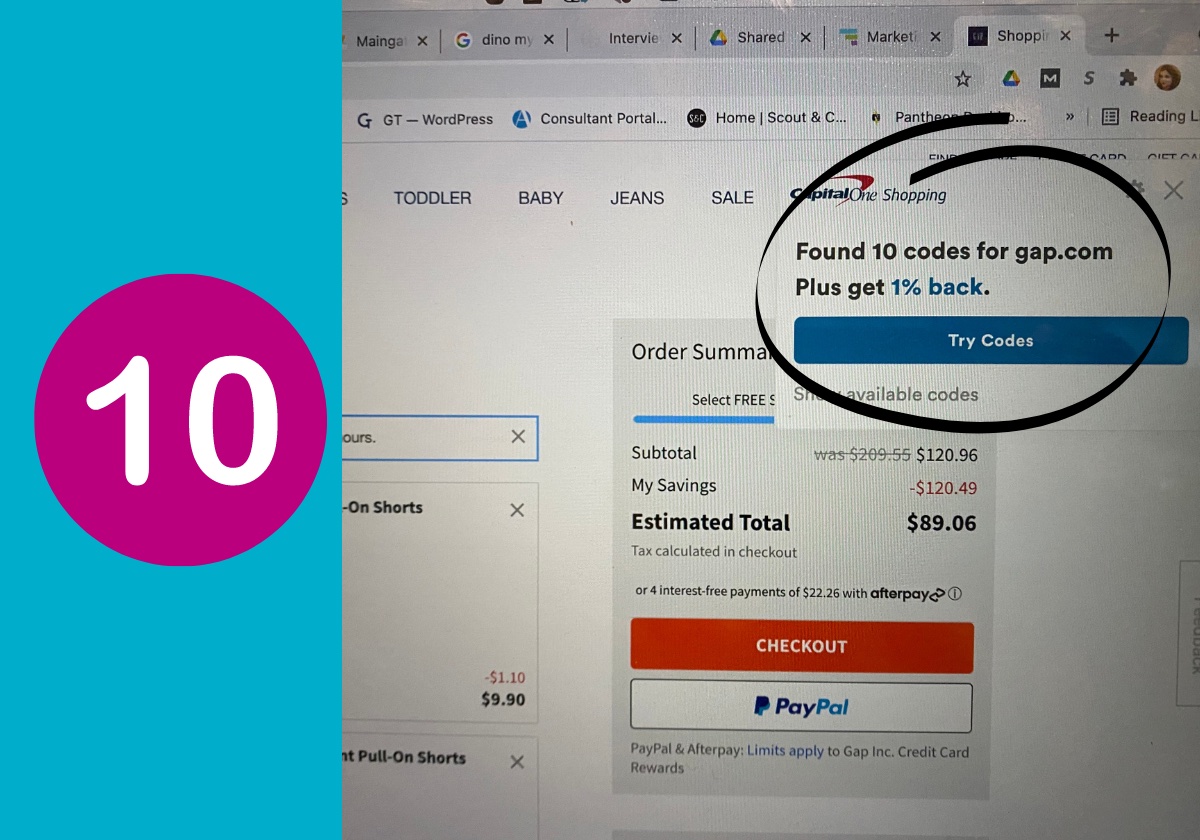 Grab a bonus. Snag exclusive rewards while shopping online at stores love (like GAP for me) by earning Capital One Shopping Rewards while you shop. Then redeem those rewards for gift cards. Bonus!
Easily compare prices. Capital One Shopping searches for a better price while we shop at Target, Best Buy, and more. If a better offer is found, we'll see a friendly little pop-up. We can quickly compare prices on Amazon to other popular retailers.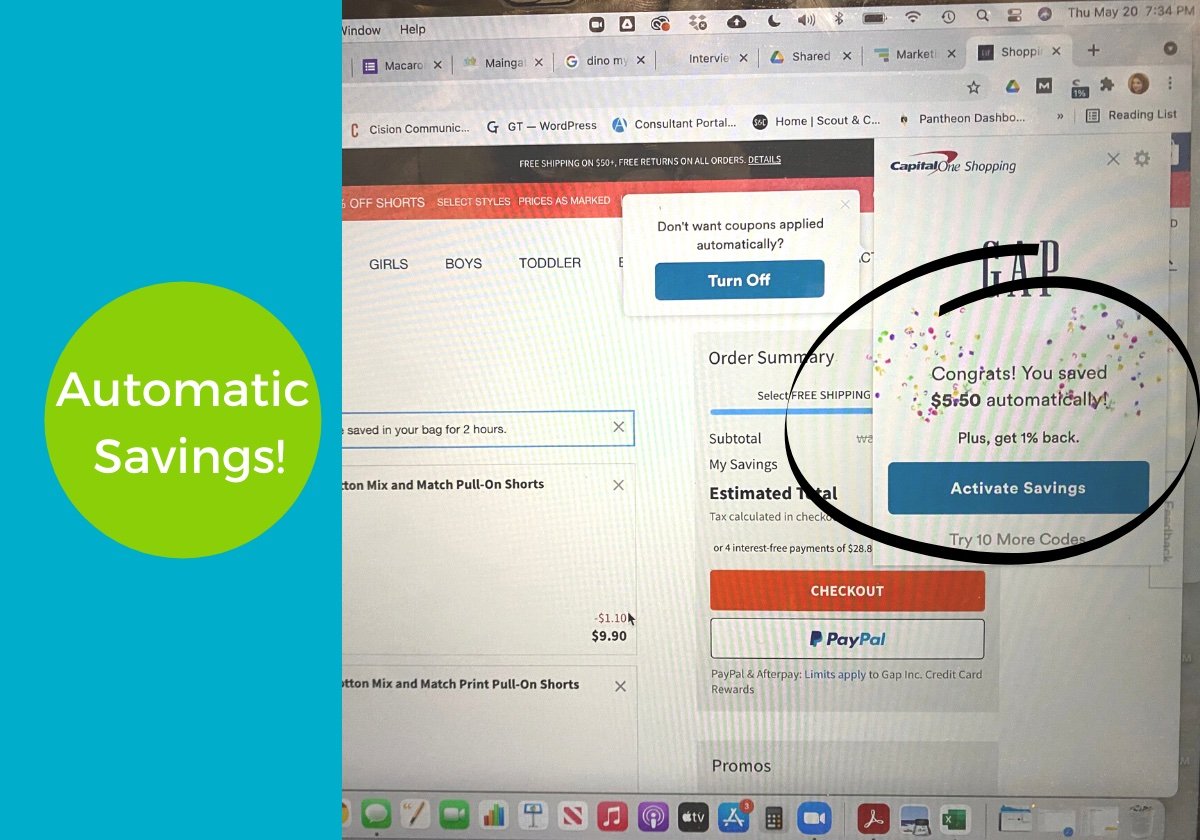 Flexibility for all our preferences. Capital One Shopping is available for Google Chrome, Mozilla Firefox, Microsoft Edge, & Safari. Plus there is an app available for iOS and Android! (The extension cannot be installed on a mobile device.)
Keeping our hard-earned dollars. It's not surprising that Capital One Shopping found customers more than $160 million in savings in the last year. Personally, in just the last few months, I've saved almost $52 on all of my online shopping. That's money back in my pocket for family fun instead of stuff! There's no guarantee on just how much we can save, but I can promise that we won't save anything if we don't start using it!
ADD THE CAPITAL ONE SHOPPING EXTENSION NOW!
Now, back to this shorts search. By buying items that were on clearance, and with all my discount codes applied, I was able to get 8 pairs of shorts plus 2 sets of long sleeve PJs. (Remember how I said earlier to buy out of season, these were deeply discounted so I picked them up.) ALL for just $61.16. THEN I added a $50 gift card that my aunt had given to one of the boys for his birthday (usually save these until I need to use it, just for a moment like this.) SO, at the end of the day, I paid $11.16 FOR THE ENTIRE ORDER. This breaks down to just 72 CENTS for each article of clothing!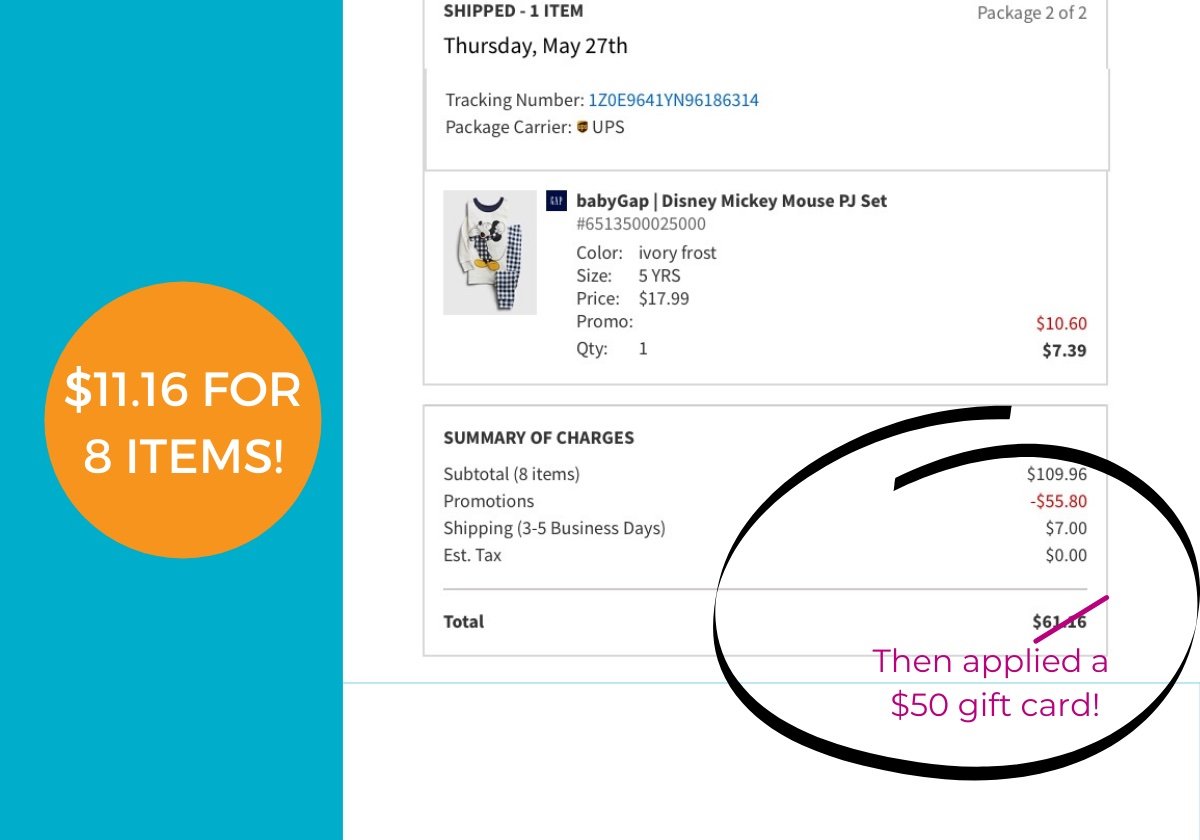 That's it! We now have enough shorts to get through the summer and it didn't break the bank to do it. My Capital One Shopping Extension was key to getting the job done. Don't delay, get the Capital One Shopping Extension for FREE now!