Shannon and Kevin Burke started their relationship by bonding over their shared love of heat and hot sauce. Within a week of meeting in Boston, they dared to dig into a ghost pepper chili pasta together, impressing one another with their tolerance for the highest level of spice! From that point forward, their love for one another—and their love for hot sauce—has only grown.
After moving out of the city to the South Shore of Boston and becoming parents to their little girl, Soleil, the Burkes began growing hot peppers and crafting their own sauce recipes. As they've shared their creations with family and friends, demand for their sauces has continued to increase. Between Kevin's science skills and Shannon's creative business sense, they've planted the seeds for an innovative, family-centered line of products.
Crafting micro-batch formulas with a signature recipe and a unique fermentation process, Burke's Hot Sauce recipes are simple, free from additives, and sustainably grown and produced. By focusing on quality ingredients and the flavor and sensory profiles of a variety of peppers, Burke's Hot Sauce stands apart from standard mass-produced formulas and the aggressive/intense flavors of some craft sauces on the market. Consumers can count on Burke's Hot Sauces for consistent high quality and innovative flavor profiles that encourage the exploration of taste and heat. Burke's Hot Sauce is approachable and encourages consumers to branch out to experience something new.
I had the wonderful opportunity to talk with Shannon Burke about her experiences as an entrepreneur, her passion for business, her love of family and of course the delicious sauces that she and her family are crafting on the South Shore! Learn more about the Burke Family and how you can shop for Burke's Hot Sauce below. Your grill and summertime recipes will thank you!
1) Hot sauce! It's such a fun way to enhance your pallet, test your taste buds and flavor recipes - what inspired you and your husband to make and market your own?
We've always enjoyed hot sauce and adding heat to our everyday foods. During COVID, Kevin started growing hot peppers for fun and at the end of our season, we had plenty of hot peppers to make our hot sauce. We started by sharing our hot sauce with family and friends and the demand quickly grew for more. That's when we decided we wanted to share our passion with others to enjoy and to create an experience for our daughter to grow up with.
2) You have a young toddler - how do you involve her in the family business? Is she a hot sauce fan?
Our daughter, Soleil, is 21 months and keeps us very busy! We want her to grow up with the exposure of working with Mommy and Daddy whether it's watering the pepper plants, making a post to Instagram or testing a new batch. She is surrounded by our labor of love and the shared experiences we enjoy when people are trying our hot sauce. She doesn't consume the same amount of hot sauce as Mommy and Daddy, but she is definitely our child and can handle a bit of heat!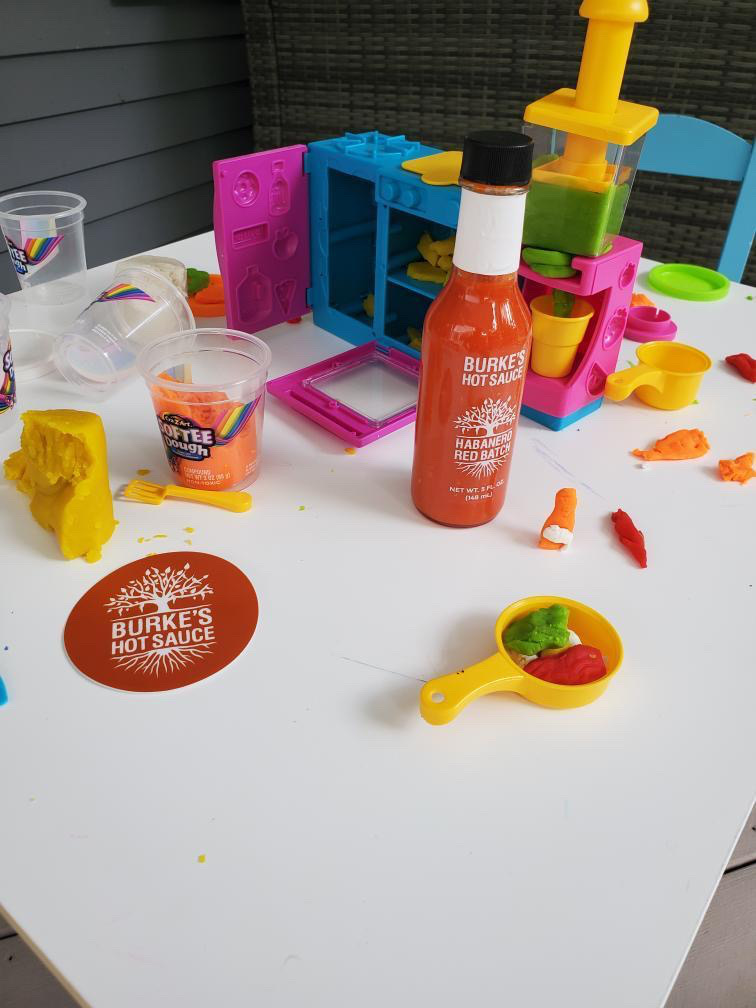 Photo Credit: Burke's Hot Sauce
3) Any recommendations to Moms who dream about being entrepreneurs, but don't know where to begin?
Build a support system and network of like-minded people who dream big. If there's something you always wanted to do, start talking about it and share your ideas with others. The more you talk about it, the more real it becomes. People will begin to share your vision and support you in taking that first actionable step. The first step can be small, but it will lead to more and more steps and before you know it, you'll be running. Just like a toddler! :)
4) The Burke's Hot Sauce logo is beautiful with the roots of the tree especially eye-catching! What is the significance?
Thank you!! The tree has symbolic significance both literally and metaphorically by sowing seeds and establishing our roots as a family-owned hot sauce business. We want our brand to provide an experience with our hot sauce that our customers enjoy with their family and friends. Heat doesn't have to make you sweat, it's meant to provide flavor to the foods you enjoy. The branches represent a journey and growth that we want our customers to be part of when they try our hot sauce. It's not a one-size flavor for all foods and we want customers to branch out and try our different flavor profiles with the foods they enjoy.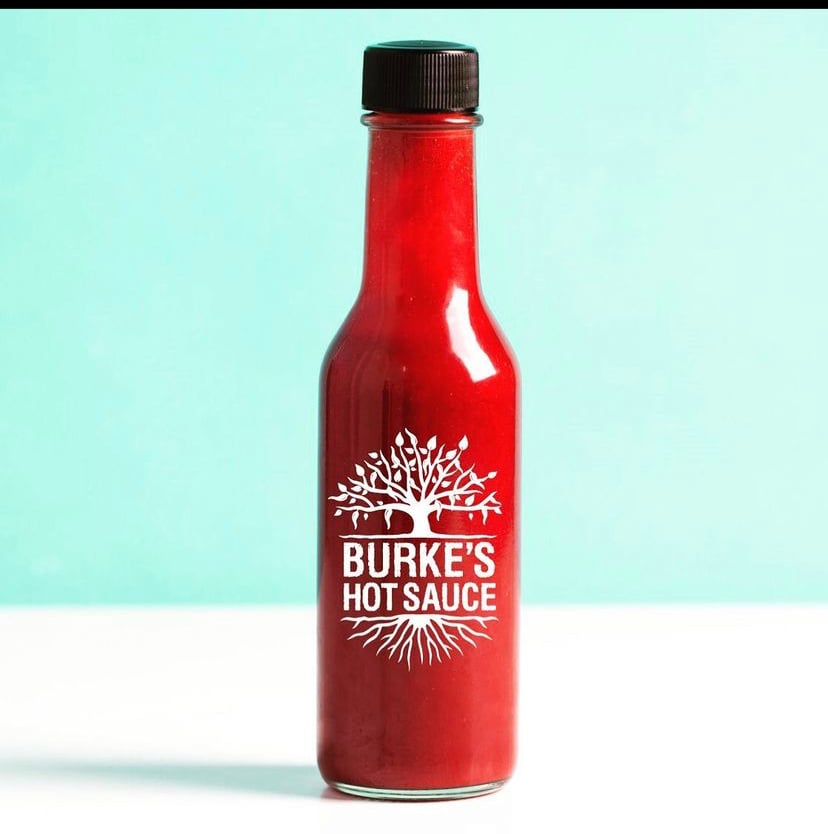 Photo Credit: Burke's Hot Sauce
5) Where are your favorite places to visit with your family on the South Shore?
So many favorite places! We love being outdoors whether that's out in our backyard or going to the beach. We live in Norwell and enjoy family hikes on the many trails in town or in Wompatuck park. We like visiting Hornstra Farms and getting fresh flowers from Cross Street Flower Farm. Now that things have opened back up, we're looking forward to seeing friends at our favorite local breweries at Untold Brewing and Stellwagen Beer Company.
6) How can readers connect with you? Are there any upcoming events where we can find Burke's Hot Sauce?
We're on Instagram and Facebook daily @burkeshotsauce or you can visit our website www.burkeshotsauce.com, which we will be launching in a couple of weeks. Also, we will be at the Hanover Farmers Market on the 3rd Sunday of every month through November. We love meeting our customers in person and look forward to those events (see SS Macaroni Kid 2021 Farmers Markets for details)
Burke's Hot Sauce Menu
Thai Chili - a savory with a Sriracha-esq, bell pepper finish
Habanero Scotch Bonnet - a sweet and salty with a lasting heat finish
Habanero Orange Batch - garlicky upfront with a subtle carrot flavor on the backend
Habanero Red Batch - a sweet bell pepper forward with a smooth vinegar taste and heat that is consistent throughout