The Holidays are coming! With so many choices out there, it can be difficult to find gifts for children that are both purposeful and fun. Montessori materials are typically electronic free, high quality and designed to spark independence and focus. The teaching staff and specialists at Bay Farm Montessori Academy have rounded up a few suggestions to help our families buy the perfect gift for the toddlers and teenagers on your list and everyone in between! We have included links to items but always encourage shopping locally. We have some wonderful toy stores across the South Shore such as Rock Paper Scissors in Duxbury and The Toy Box in Hanover. Check out their websites to see if they have similar items. Happy shopping!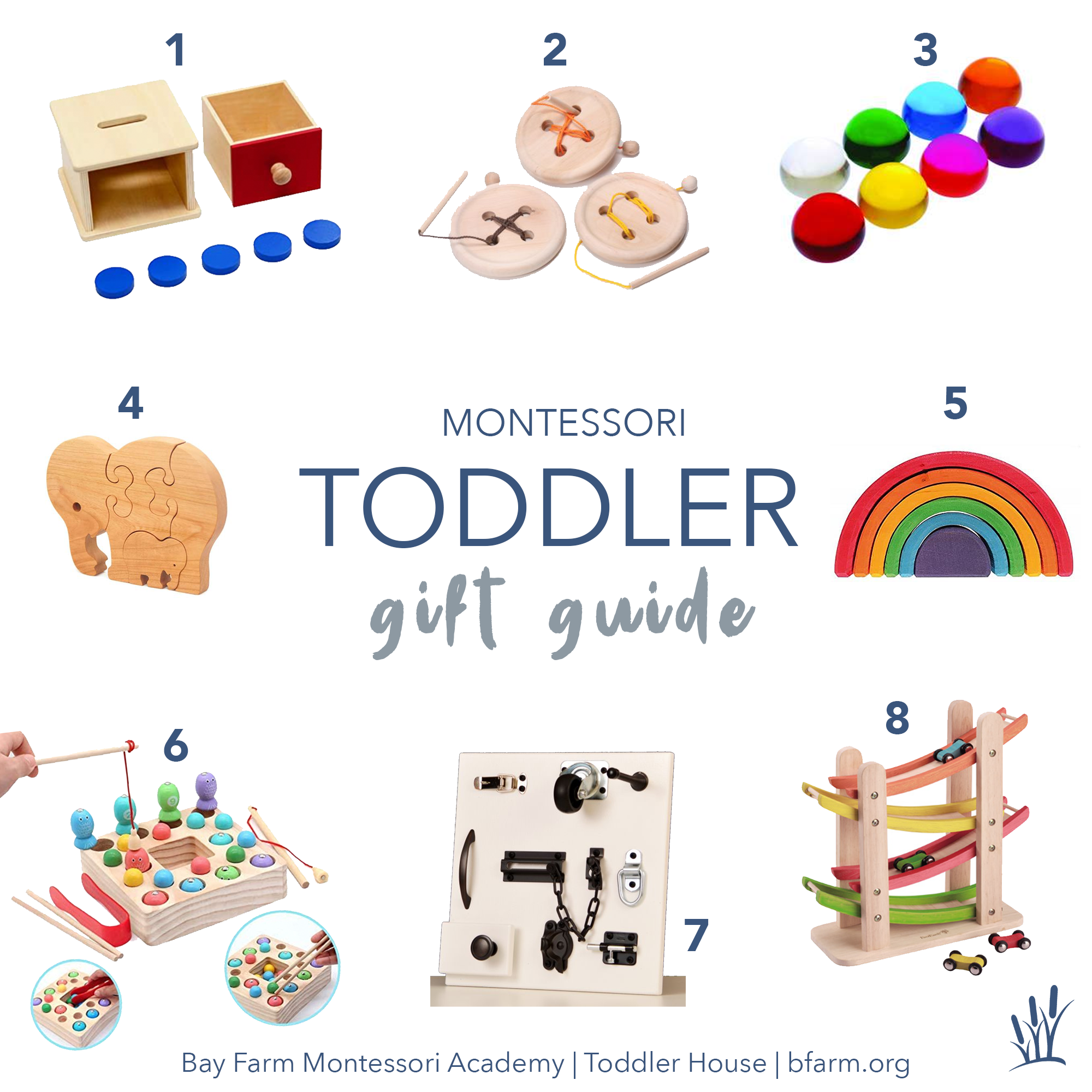 1. Coin Box | 2. Jumbo Sewing Buttons | 3. Perception Semispheres | 4. Elephant Puzzle 5. Stacking Rainbow Puzzle | 6. Wooden Fishing Game | 7. Sensory Board | 8. Wooden Car Eye Tracker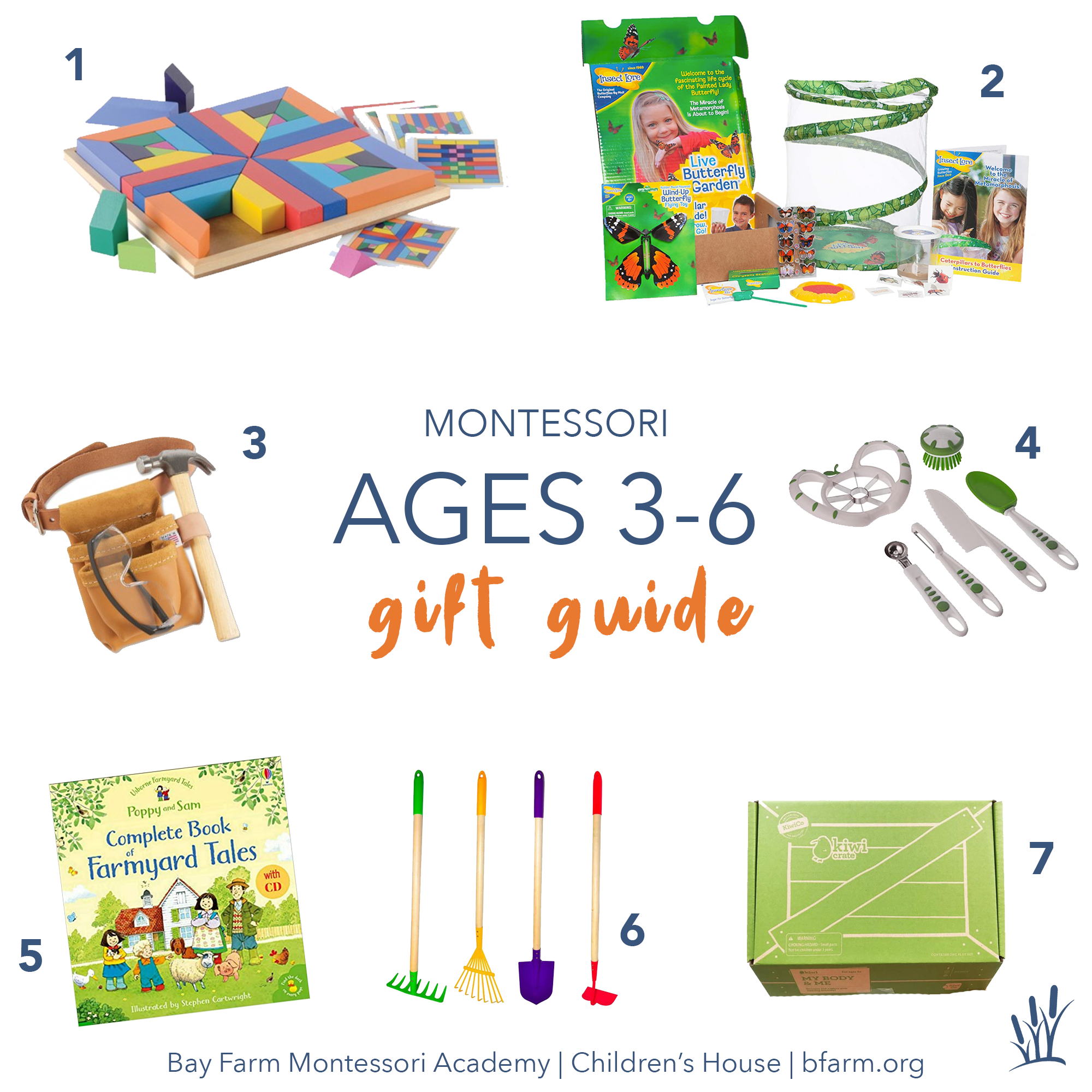 1. Pattern Play | 2. Live Butterfly Garden | 3. Young Carpenter's Set | 4. Curious Chef Children's 6-Piece Fruit and Veggie Prep Kit | 5. Complete Book of Farmyard Tales | 6. Harmony Farm's Children's Farm Tools | 7. KiwiCo Set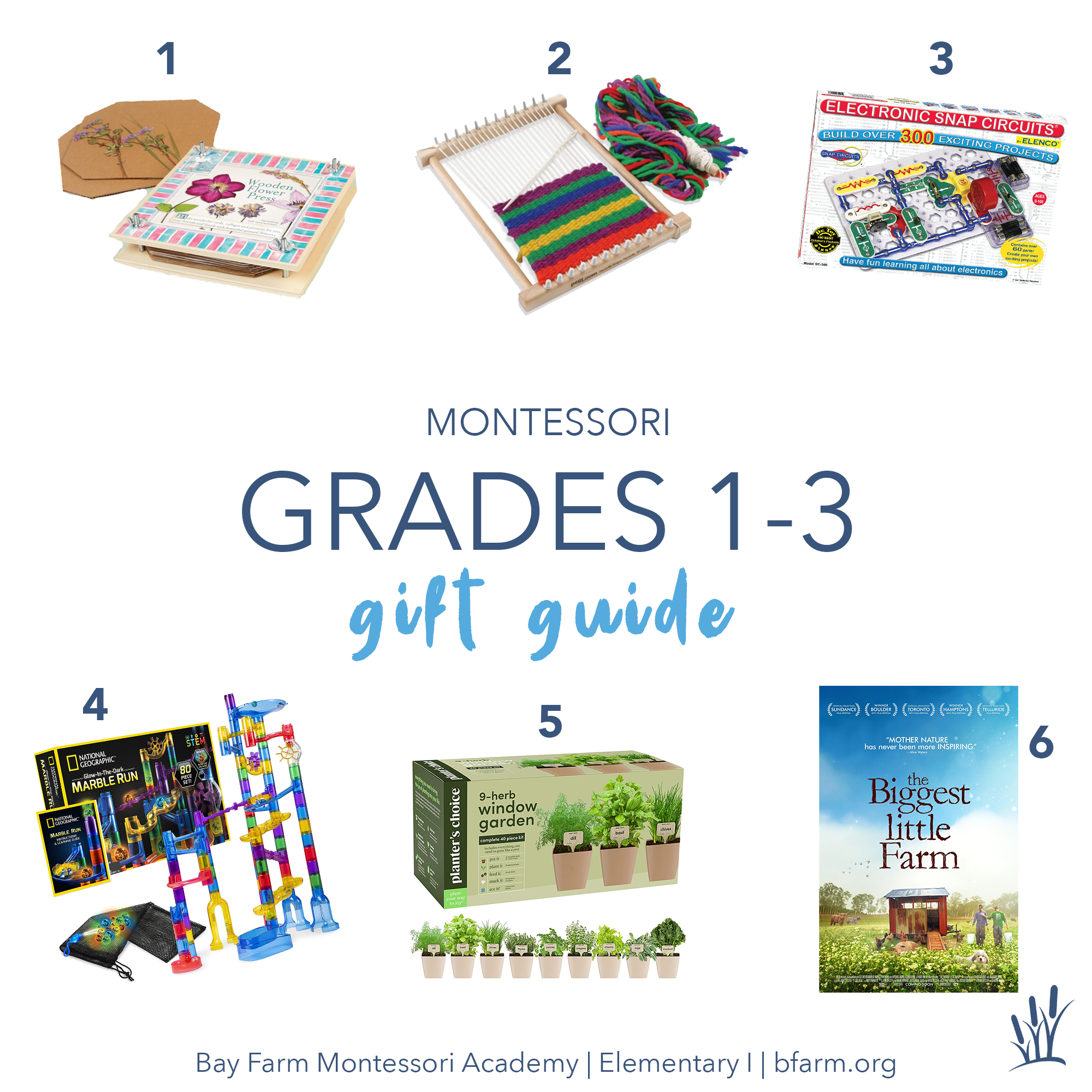 1. Wooden Flower Press | 2. Montessori Lap Loom | 3. Electronic Snap Circuits | 4. National Geographic Marble Run | 5. Herb Window Garden | 6. The Biggest Little Farm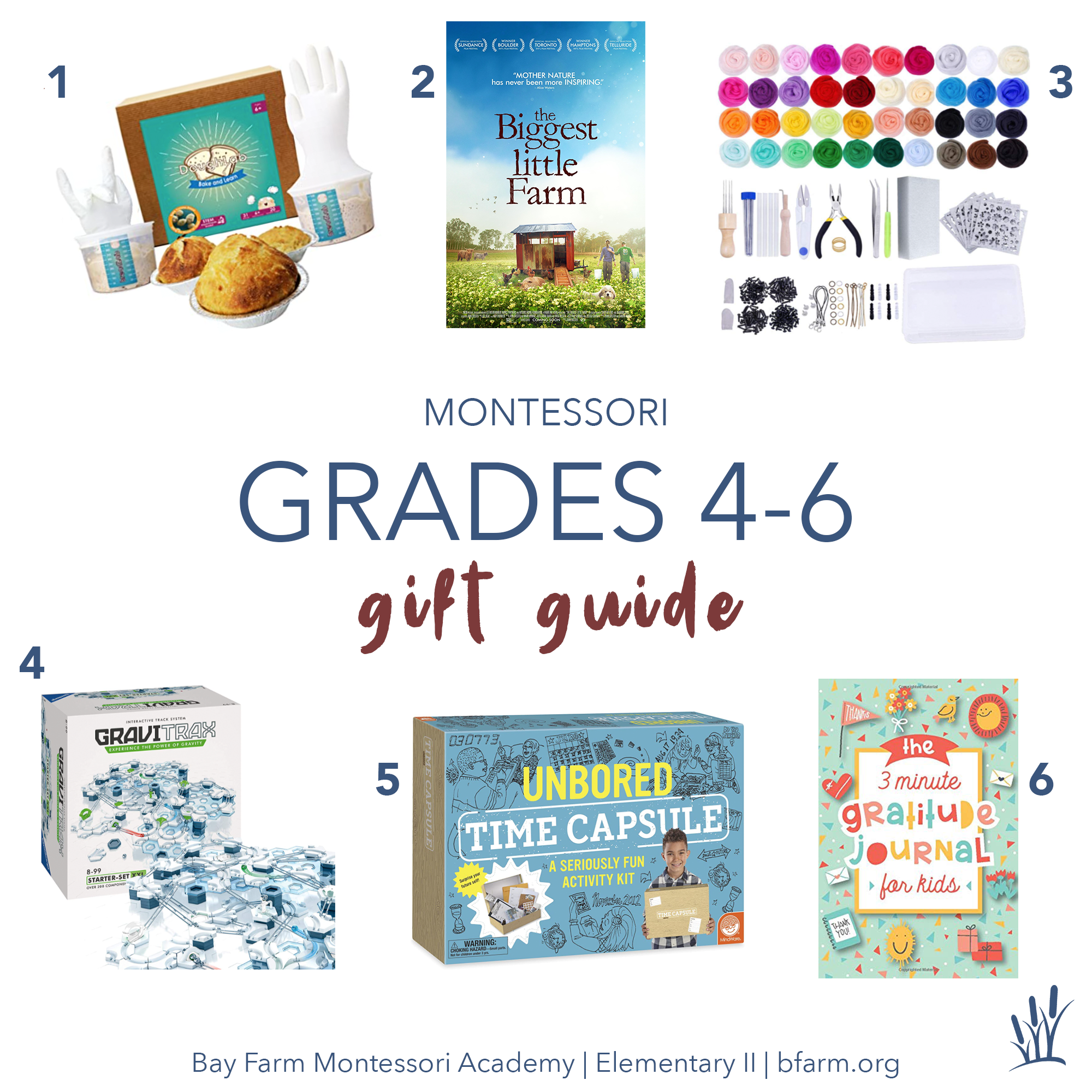 1. Bake & Learn Kit | 2. The Biggest Little Farm | 3. Needle Felting Kit | 4. STEM Gravitrax Marble Run | 5. UNBORED Time Capsule | 6. 3 Minute Gratitude Journal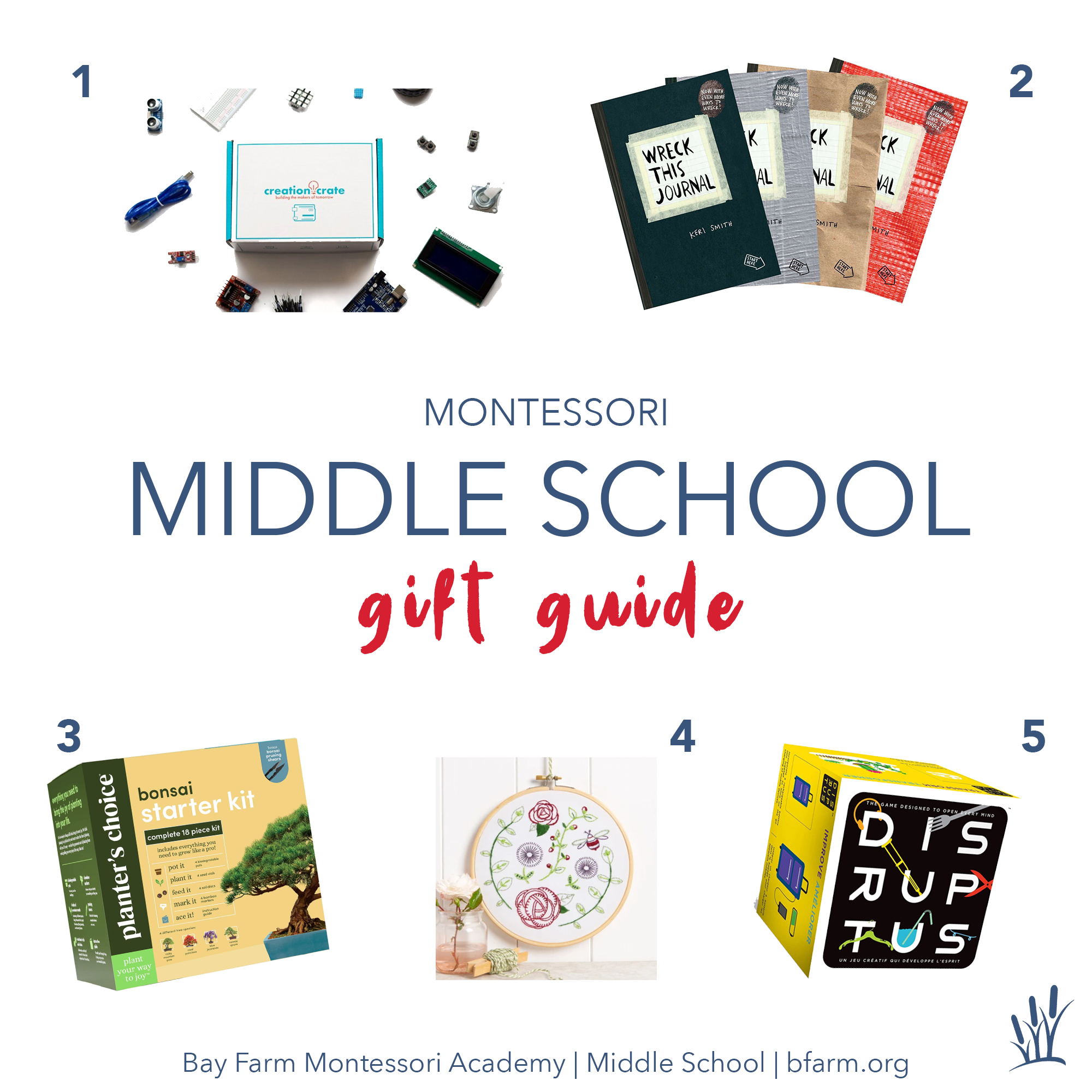 1. Creation Crate | 2. Wreck This Journal | 3. Bonsai Tree Starter Kit | 4. Botanical Embroidery Kit | 5. DISRUPTUS Game
Bay Farm Montessori Academy is a private Montessori school in Duxbury serving children ages 12 months to 14 years. Bay Farm offers strong academic programs rooted in Montessori philosophy that inspire children to grow with joy, purpose, and compassion. The school's well-rounded academic curriculum and hands-on learning develops the skills and experience that enable its students to emerge as self-confident learners and leaders upon graduation. Bay Farm's 9-acre campus allows for in-person learning with safe practices as it relates to COVID-19. Students have plenty of classroom space for physical distancing, outdoor classroom activities, access to handwashing stations, as well as the technology needed for Bay Farm at Home online learning. They are currently accepting applications for Fall 2021. To learn more, request more information here.